Important COVID-19 Update:
Due to current circumstances, ActivateYYC 3.0 Traffic Calming has been postponed until 2021. Further information to come.
How is this ActivateYYC different from the others?
This ActivateYYC is about traffic calming, specifically at intersections using "bump outs". The Federation and City will work together to get the approval for the intersection, the City will cover the cost of permits, signage and flex polls. The ActivateYYC microgrant, that you apply for, will cover activation supplies (paint, paint supplies, planters, etc.), food for volunteers, and other related expenses you deem necessary to a maximum of $500.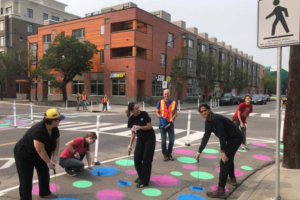 What is a "bump out"?
A curb extension that is used in traffic calming measures. Bump outs help shorten the area of road that pedestrians cross, and helps to slow traffic in these areas.
Are there any restrictions for how we design the "bump out"?
Your artwork cannot resemble any kind of traffic control (e.g. stop signs, traffic lights), and must be contained within the flex posts. Your design must be approved first by ActivateYYC.