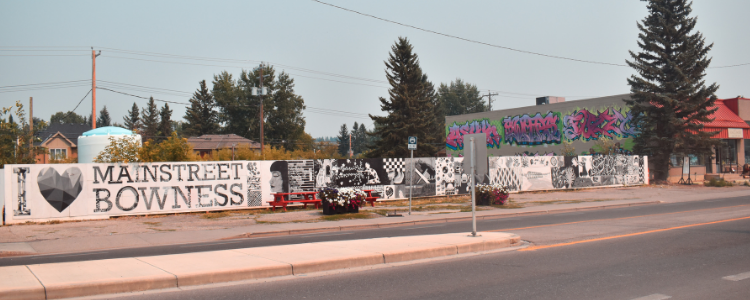 By Marin Peake-MacAlister
In the summer of 2021, Bowness became a hotspot for artists, business owners and residents to showcase their creativity and take advantage of their neighbourhood amenities.
Mainstreet Bowness BIA teamed up with Mixed Manifest, a group that organizes and facilitates artists and musicians for live events, to create a weekend-long event – dubbed 'Bowness is Awesome' Mural Jam – aimed at highlighting art and music in the community.
To accomplish this goal, the event featured artists painting a total of seven murals on buildings and sidewalks around Bowness' Mainstreet.
Along with the murals being painted, musicians gave live performances and the daughter of one of the business owners even set up her own lemonade stand to raise money for the annual Kidney March event, which helped her raise over $700 for a friend in need.
Music was playing, artists were creating and businesses even got involved with customer appreciation events.
One of the involved businesses was Leopold's Tavern, a local business that gained a mural on the side of their own building that very weekend, and offered a beer garden experience to all who attended the event.
The buzz happening on Bowness' little main street came after years of being a historically quiet neighbourhood when it comes to showcasing its unique and eclectic vibrancy.
However, with the help of an ActivateYYC grant, Bowness' dream became a reality that has helped shape the community and put it on the map as a unique place to experience.
Follow along with the photo journey of the 'Bowness is Awesome' Mural Jam