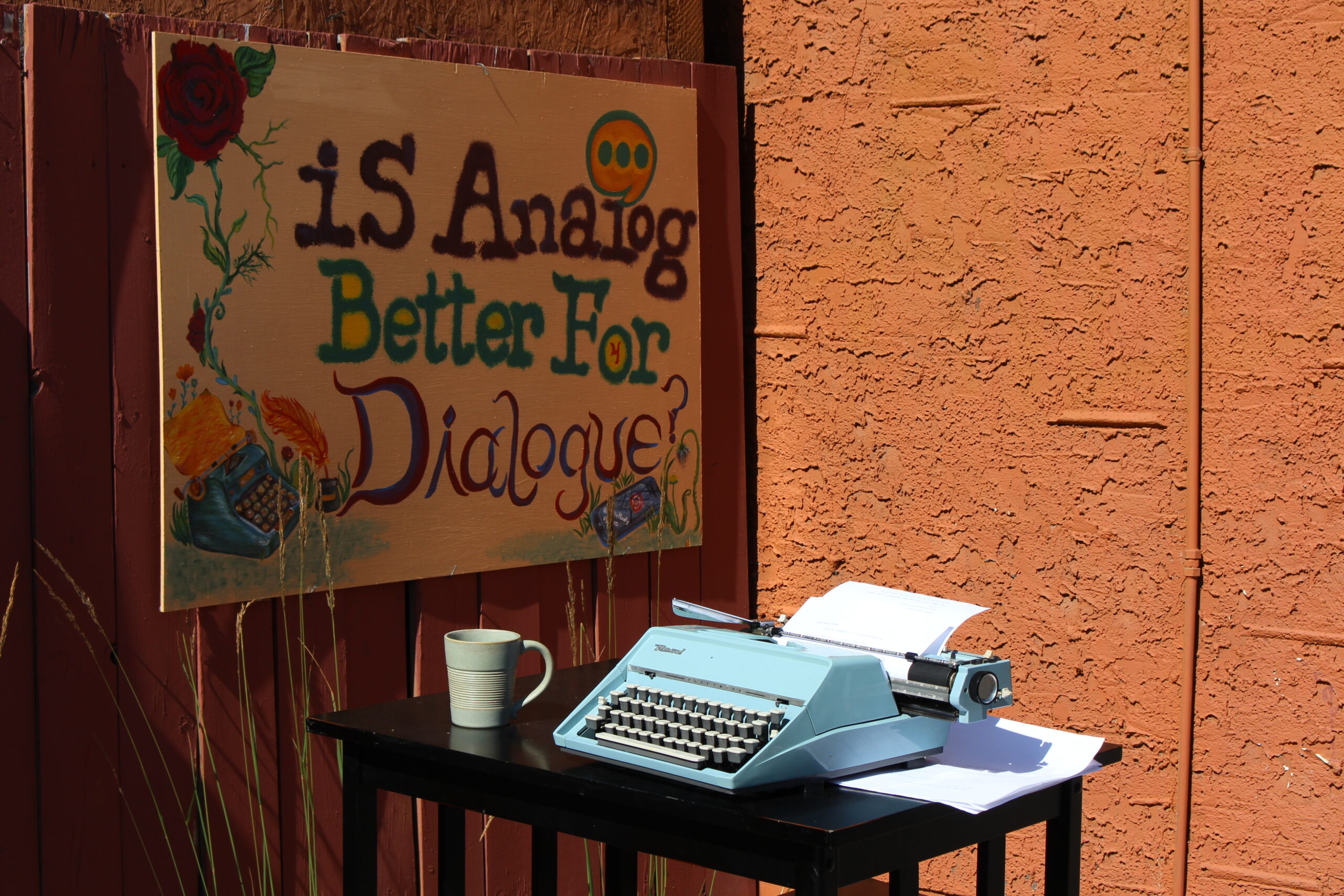 By Marin Peake-MacAlister
On a sunny August morning, Inglewood BIA unveiled their newest placemaking project. The small two-by-four-metre area, which began as a patch of gravel and overgrown grass, proved to the community that even the smallest space can become an influential place.
This influential space – named 'Analog is Dialogue' – was created by laying down flagstone and installing a temporary typewriter for community members to write letters, songs, poems or even just their thoughts. 
Rebecca O'Brien, the executive director of Inglewood Business Improvement Area (BIA), came up with the idea by exploring ways to increase connections between neighbours after the pandemic while still staying true to Inglewood's unique culture. 
"I've often talked about how the essence of Inglewood is analog and the idea is that we have conversations and we talk and we kind of put aside some of the speed and pace of life," she said. "That was where the founding thoughts came from, and how best to do that by stepping back into the written word, and that slow composition of words and thoughts."
O'Brien was able to achieve this with the help of the Federation of Calgary Communities' ActivateYYC microgrant program, which provided the Inglewood BIA with $1000 towards their project. 
After securing funding, O'Brien explored the ways in which she could incorporate local arts and culture. One of the ways she did this was by reaching out to local artist Kallie Stewart, who painted an accompanying art piece that reads 'is Analog Better For Dialogue?'
O'Brien revealed that she believed the use of a question would prompt engagement and draw people in, which she then confirmed was a success. 
She recalls one couple from Colombia who used the typewriter to write to each other.
"The husband wrote a beautiful love letter in both Spanish and English to his wife. It was her birthday," she said. "They were giggling away out here."
As the day passed by, she said that more people utilized the new space just as she had intended with one young man who passed by with his dad, but then came back to write an anonymous love letter. Similarly, another group of teenage boys came to experiment with more humourous language.
"[People] want to get out, they want to connect with the people. And you have to create space to do that," O'Brien said. "As long as I'm in the office and as long as the sun is shining, I'll have it out there."