Say hello to Calgary's newest DIY Disc Golf Course! Located in Meadowlark Park, the course features a wide variety of targets to frolf with your friends!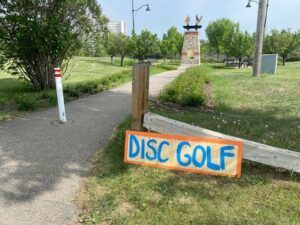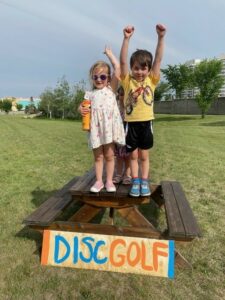 Karen Camarta, a member of the Meadowlark Park Community Association, was introduced to the idea of creating a Disc Golf course after attending an ActivateYYC workshop.
She saw it as the perfect idea for Meadowlark Park, a beautiful green space that is tucked away in the community, hidden by an alleyway on one end and Glenmore's sound barrier on the other. With the vast open space containing no amenities and no programming, it was very much under-utilized by the community.
Residents additionally frequently witnessed unhoused individuals camping in the green space and bushes leaving surrounding families hesitant to utilize the space. As a result of this, the community is undergoing a larger revitalization of the green space to design a space that encourages neighbors to spend time outdoors. While this larger project is in the works, Camarta saw this summer as the perfect opportunity to undertake a cheap and cheerful project that could more immediately activate the space and draw life back into the park.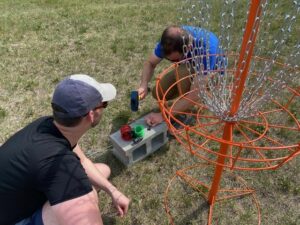 Camarta was able to bring this project to life with the help of the Federation of Calgary Communities' ActivateYYC microgrant program, which provided Meadowlark Park with $1000 towards their project. Through volunteer mobilization, the project was kicked off with a community cleanup.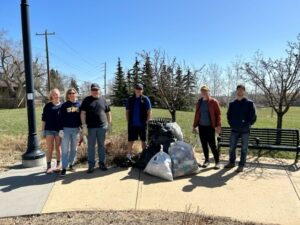 When we asked Karen if she has directly seen the positive impact after the intervention, she explained: "There are a couple of stories to-date that have brought a smile to my face! First, one of the homeowners who backs onto the park has been amazed at the number of people he has seen coming into the park over the lunch hour to sit at the new picnic table and enjoy their time outdoors; he feels a lot of these people are actually coming into the space from the apartments just across Glenmore, which was unexpected and exciting to hear! Second, a neighbour of ours was lamenting how much time their son spends indoors on screens, and how excited they were the other day to point out the door to him and say "go play golf"…which he did with a friend and had a great time doing so!"