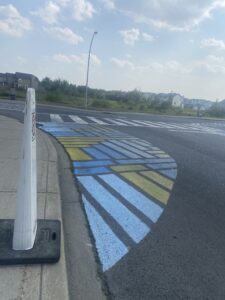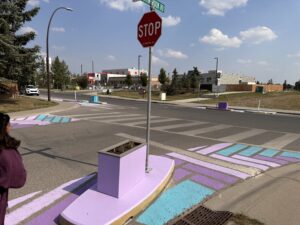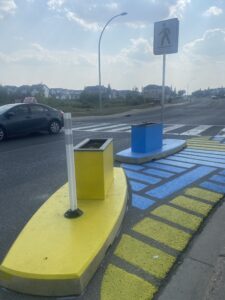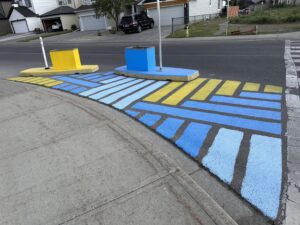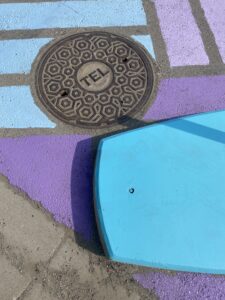 Sustainable Calgary received a $10,000 grant from ActivateYYC to increase the levels of safety and vibrancy surrounding two schools in Martindale (Manmeet Singh Bhullar school and Ecole La Mosaique). Volunteers gathered over two weekends to colour in the road mural, paint the traffic calming curbs, and install the planters on top of the curbs. The project was created in response to feedback gathered during engagement at the schools, "problems identified included speeding and general aggressive driving through the school zone, illegal u-turns on Martindale Boulevard, the lack of colour and greenery, and general paucity of interesting/interactive spaces for kids in the area", said project organizer Srimal Ranasinghe.
The project had many volunteers help out, which included people from a variety of professional backgrounds with an interest in cool urban spaces. Local school students also helped with painting furniture. The project also used funds, and hired a parks designer (Giovanni Carano) to design and oversee the street murals, landscape architecture students from the University of Calgary to help design the overall concept (designed by Tripty Kaur) and planting palettes (Afrin Islam), and fabricators to design and build the street furniture (Yarko Yopyk) and planters (Keith Simmons).
This project by Sustainable Calgary is a terrific example of community engagement, partnerships, and execution of a traffic calming tactical urbanism project.